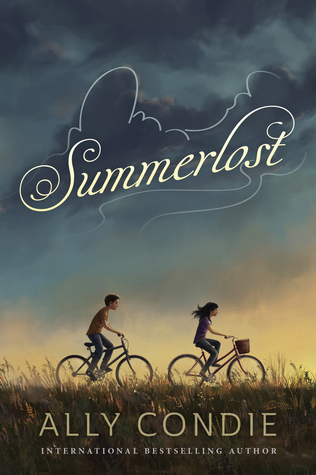 Book: Summerlost
Author: Ally Condie
Publication Date: January 26, 2016
Goodreads Description: It's the first real summer since the devastating accident that killed Cedar's father and younger brother, Ben. But now Cedar and what's left of her family are returning to the town of Iron Creek for the summer. They're just settling into their new house when a boy named Leo, dressed in costume, rides by on his bike. Intrigued, Cedar follows him to the renowned Summerlost theatre festival. Soon, she not only has a new friend in Leo and a job working concessions at the festival, she finds herself surrounded by mystery. The mystery of the tragic, too-short life of the Hollywood actress who haunts the halls of Summerlost. And the mystery of the strange gifts that keep appearing for Cedar.
Infused with emotion and rich with understanding, Summerlost is the touching middle grade debut from Ally Condie, the international bestselling author of the Matched series, that highlights the strength of family and personal resilience in the face of tragedy.
What it's really about:
Summerlost is a story of grief and understanding such a profound emotion from a child's perspective. But it's so much more. It's about family and friendship and childhood and those conflicting feelings we sometimes have about family.
Cedar and her brother Miles are dealing with BIG FEELINGS, but they're also dealing with everyday things like the soap opera they both watch and friendships in a new house in a new town. We also peripherally experience the grief their mother feels and her new responsibility as the sole caretaker to her two young children.
The book also deals with childhood friendships and how meaningful and deep they can be. Cedar and Leo experience that quick bond that I think most people have experienced in a childhood friendship. They complement one another well, working together at a fledgling business and finding belonging that they both need.
What I loved:
Condie dealt with very large feelings with both skill and grace. We weren't beaten over the head with them, but they were always there in our conscious as a reader as they would be in the characters' thoughts. While I thought she handled the loss well from the children's perspective, I was even more impressed with how she included their mother and still kept that childlike innocence and mindset.
I loved the inclusion of Shakespeare and theatre (of course…I'm a former English teacher).
The mystery Cedar and Leo attempt to solve provides a welcome distraction for both Cedar and for the reader. The loss of a parent and sibling could be overwhelming, but the novel was so positive and hopeful.
Cedar still has conflicting feelings and guilt regarding her brother Ben. While it never is explicitly stated in the novel, it's implied that he had some developmental and social delays. She was embarrassed by his behavior and still feels guilt for that, and those are difficult feelings for anyone, let alone a 12-year-old, to work through.
What I didn't:
Such a quibble, but Shakespearean plays have five acts, and I wish Condie would've stuck with that convention since she chose to use the "Act" motif.
Disclaimer: I read an ARC copy of the book.